2019 BEACONS OF EXCELLENCE AWARDS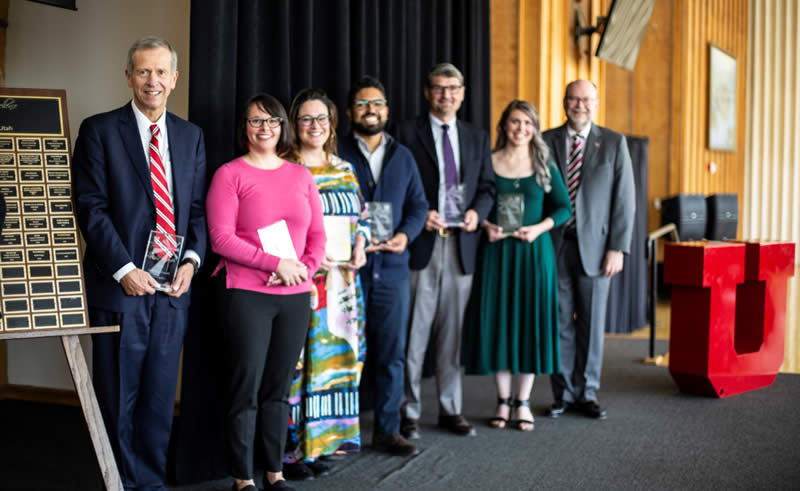 Ally Marringa
Social & Behavioral Science
Ally makes it a priority to center stu-dents in everything she does. Her ad-vice and compassion enable her to help students feel heard and seen by fostering trust. She seeks out profes-sional development opportunities that will help her in being more inclusive in her work. Ally leads the College of Social and Behavioral Science Ambassador Program and works to find student leadership opportunities.
Dream Center/Alonso Reyna Rivarola
Office of Engagement
The Dream Center, under the leader-ship of Alonso Reyna Rivarola, uses a holistic approach in supporting, advocating and mentoring undocumented stu-dents as they navigate their education. The Center enriches the lives of the students it serves through the tireless work of building relationships with campus and community
partners.
ArtsPass
College of Fine Arts
ArtsPass gives University of Utah Stu-dents the opportunity to experience performances that highlight other students' talents and accomplishments. These experiences help foster a meaningful connection to the arts throughout the campus community. The pro-gram also encourages students to join into an artistic dia-logue and broadens the educational experience and ex-poses them to diverse mediums and topics.
Mark Matheson
MUSE Project
Mark is an impassioned educator who creates classrooms open to discussion and interaction. His work with the MUSE project brings stu-dents together across disciplines to engage, empower and give purpose. Mark treats everyone with a genuine compas-sion and interest. He is limitlessly dedicated to enriching the student experience at the University of Utah. The MUSE pro-ject fosters a warm, friendly and creative atmosphere.
Dean David Perrin
Dean Perrin is committed to creating impactful and inclusive learning expe-riences for his students. He has developed projects that positively impact the culture of the College of Health for students and faculty such as the Center for Student Success. Dean Perrin has also created the College of Health Research Office to increase research and grant opportunities for un-dergraduate and graduate students.
U of U Prison Education
Erin L. Castro and Cindy Fierros
The University of Utah Prison Educa-tion Project provides transformative higher education opportunities to incarcerated students, graduate students and faculty. The project works in a non-traditional classroom setting to provide diverse research and skill building experiences to facilitate social change. It also fosters empathy and service by building partnerships throughout the community.