2017 BEACONS OF EXCELLENCE AWARDS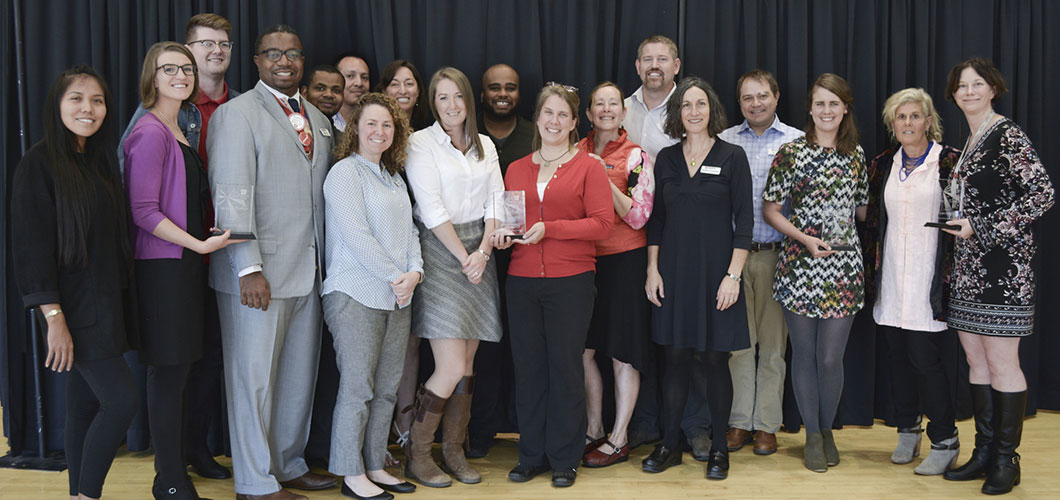 Connect2Health
Connect2Health is supported by student volunteers and works to bring community resources to underserved patient populations. These volunteers are compassionate, innovative, and dedicated to meeting the needs of each patient served by the program. Connect2 Health allows these student volunteers to network with community partners and organizations to better understand the resources available.
Isabel Dulfano
College of Humanities
Isabel Dulfano is not only an expert in her field, but also guide, mentor, adviser, and friend to her students. Isabel works to challenge her students to consider different perspectives relating to culture and acts as a facilitator for constructive dialog. Her classes, both online and in-person, are engaging, dynamic, unique, and diverse. She shows concern for each student's progress and interests. It is through this concern that Isabel cultivates a welcoming learning environment.
Johnathan Davies
College of Engineering
John Davies is a dedicated educator and exemplary engineer. He devotes much of his time to students and student groups, provides valuable learning experiences and perspectives, and is quick to share his knowledge of engineering and the latest technology and advancements in the field. With his expert guidance, he allows for real-world application of text-book and classroom knowledge. Jon also goes above and beyond to assist students with projects and problem solving. ​
Dr. Judith Neugebauer
BioEyes, School of Medicine
Through the BioEyes Program, Dr. Judith Neugebauer provides transformative experiences for her students. She is hard-working, enthusiastic, and committed to the improvement and growth of her program. Judith promotes STEM in a way that is exciting and works to actively engage the community. She is always looking for new ways to innovate and increase student success. It is through her passion that many students discover a desire to pursue science as a career, no matter their background or circumstances. ​
Laura Schwartz
Alternative Breaks, Bennion Community Service Center
Laura Schwartz is a hard-working, caring, and positive professional dedicated to social justice. As the ALternative Breaks Coordinator, she works to create a safe environment for students cultivate skills and discover strengths through service opportunities. Her kindness and understanding as a mentor allows them to grow and develop into student leaders. Laura also empowers students to become active volunteers in their communities.
Student Success Advocates
The Student Success Advocates are an innovative group that make a big difference. Focusing on the development of students facing personal and/or academic challenges, they help provide a network of support. Actively involved in campus and local activities, the Student Success Advocates serve as role models to students looking to become strong, self=sufficient leaders.
Sutton Building
This state-of-the-art building is home to the Department of Geology and Geophysics. The architectural design incorporates Earth-science elements, abundant windows to highlight the surrounding natural beauty of Utah and is comfortable in inviting. Containing an art gallery, museum, classroom space and acting as a world-class research facility, the Sutton Building creates an immersive learning environment. The Design and organization of the building also fosters dynamic learning and encourages collaborative learning opportunities